Savor the Lively Teahouse Culture & the King of Dim Sum – Siomai (shumai)
14 Mar, 2021
The classic siomai is never outdated in yum cha, because its filling can be any ingredients to satisfy different dietary needs. Moreover, a growing need for delicious, nutritious and convenient food encourages the demand for frozen siomai.
"Yum Cha" literally means tea-drinking in Cantonese, yet, it involves just a bit more action than the leisurely European style high tea. However, if you're a first-timer, and want to truly indulge this authentic experience, it's important to understand the culture and dynamics of the teahouses and be ready to lose yourself in the chaotic surroundings.
Originated in Canton province in China, a southern region that's been the center of trade and businesses for centuries, Yum Cha has evolved from the simple roadside sheds that served tea and refreshments for businessmen who were passing by, provided a venue for people to rest, snack, exchange information and even expand their social networks. With time, these popular destinations were then built into proper teahouses and restaurants, where not only tea is served, but also an array of delectable dim sums is made for more diversified crowds. As this tea-drinking culture slowly became an essential part of the Cantonese lifestyle, and was adapted in Hong Kong, the teatime dim sum eventually became the star of the show; chefs around the world are now working hard to refine their recipes and creating exquisite new items on the menu to attract foodies and gourmets alike to dine at their teahouses.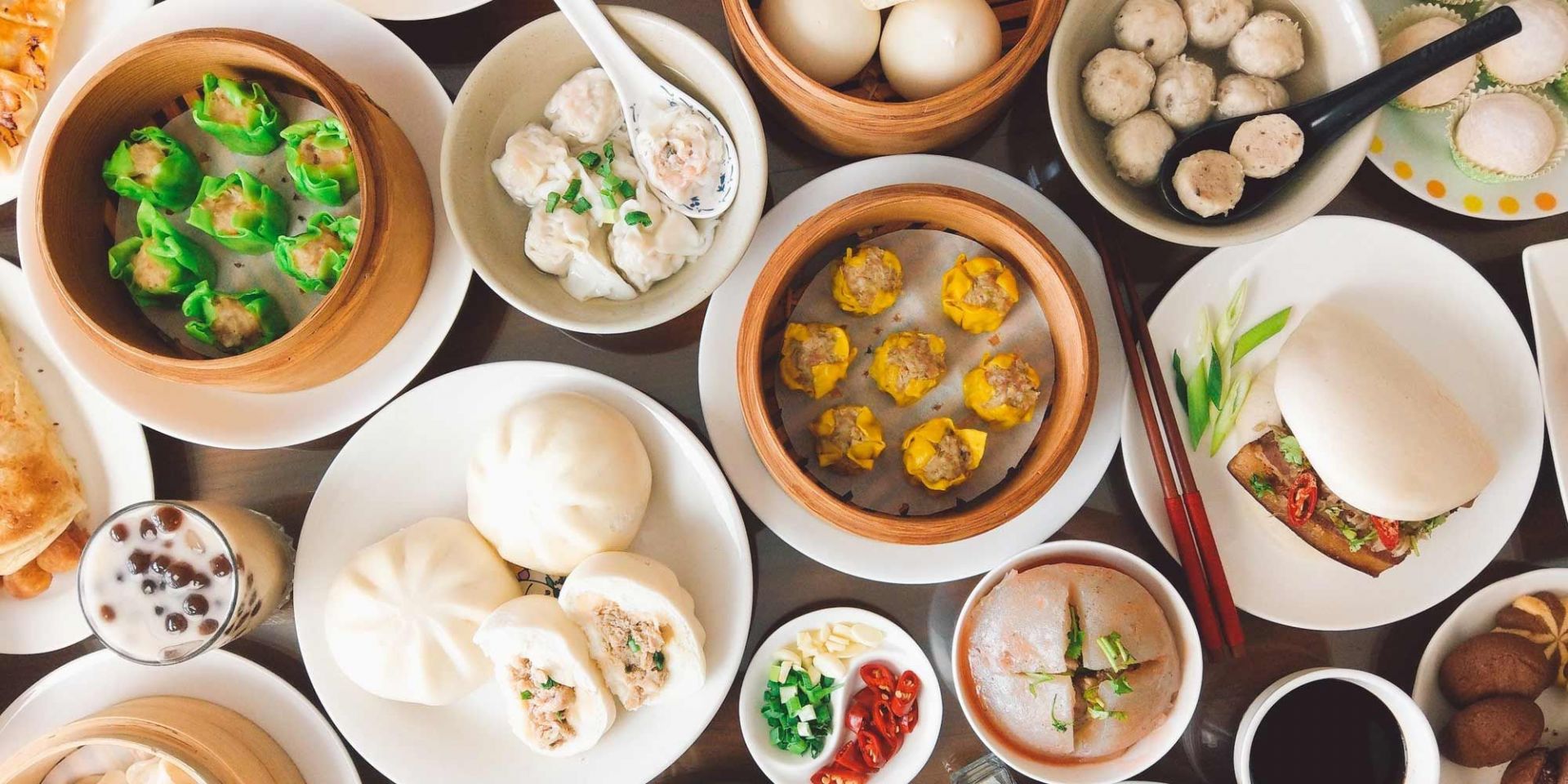 Dim sum is best when it's freshly made, and enjoyed while it's hot. Back in the days, waiters had to walk around with a big tray of dim sum around the restaurant, serving as they shout out the items to attract customers. Later on, trollies were used to carry more items, not only for efficiency, but bain-marie installed to help keep food warm; some even incorporated a small steamer for making rice rolls (cheung fun) and other hot dishes. Hence the birth of the modern day dim sum carts, that are trafficking around the teahouses, as the most memorable and unique impression of anyone's Yum Cha experience.
Out of the extraordinary world of dim sum, there are the 4 iconic items that are the most favorable and best-selling. The epic har gow (shrimp dumplings) and siomai (shumai) are the most traditional but are also dim sums that never go out of fashion; while cha siu bao is the innovative new classic bun; finally, egg tarts, represents the fusion and blend between Eastern & Western cultures. These dim sums seem simple but are hard to master, and in order to perfect the dishes, chefs need to focus on details such as the folds (13 for har gow), the proportion and ratio between the wrap and siomai (shumai) filling, as well as heating and cooking.
Siomai (shumai) has the longest history out of the 4 classic dim sums mentioned above, and it's also the most beloved item in a Cantonese teahouse in Hong Kong.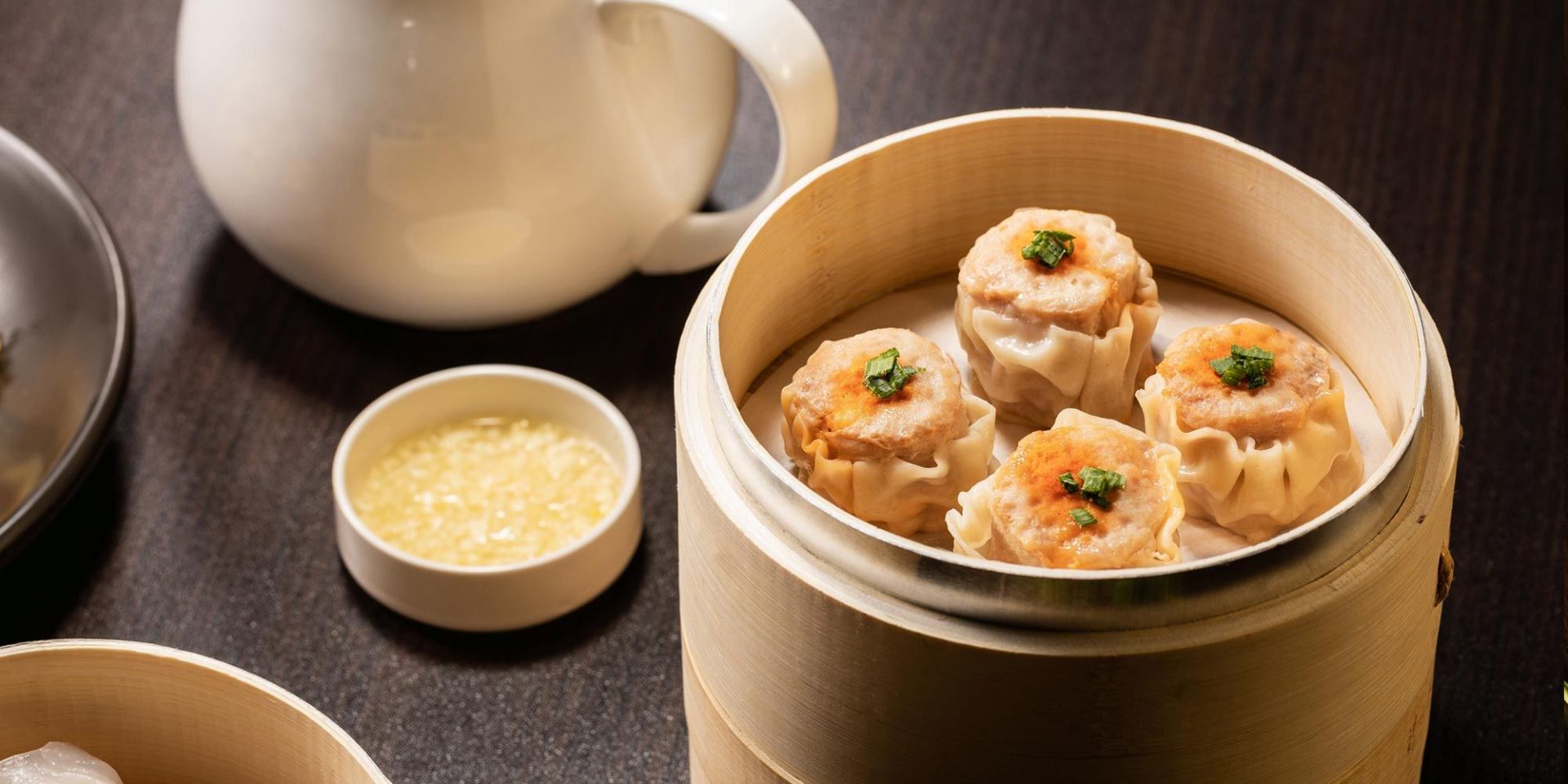 The origin of siomai (shumai) could be traced back to the Yuan dynasty, around 700 years ago. It was invented in the northern regions of China and then slowly spread its fame down south, and was glorified in the teahouses in Canton and Hong Kong. The thin wrap is made with flour and hot water, siomai (shumai) is often filled with pork, shrimp and mushrooms; it's usually hand-shaped by chefs into cup-shapes with an open end that resembles a little flower, it's then steamed and served as the all-time favorite dim sum in the teahouses in Hong Kong.
According to a survey conducted by the website healthyD in 2015, people in Hong Kong visit teahouses once every 5 days on average, with more than 60% of them favoring siomai (shumai), and it's estimated that they consume over 400 million siomai (shumai) a year. The love for siomai (shumai) is not limited to Yum Cha but made into affordable street food snacks. The recipe for traditional pork and shrimp was replaced by fish paste, it's toothsome and filling. Some also sell them raw and frozen to households for people to cook at home.
The friendly siomai (shumai) bears profound culture, but the process of making is rather simple, which allows more creativity and automated mass production. Siomai (shumai) could be a snack designed for takeout or made into frozen food products, that's quality controlled, food safety ensured, and easy to be prepared at home.
The American Frozen Food Institute (AFFI) predicts, in 2021, consumers will continue to seek more nutritious, plant-based and foods that are more convenient, and the market for products that could meet the needs has a lot of room for growth and success. In addition to the HALAL Food certification, various meat alternatives on the market, now there are chicken and seafood siomai (shumai) available. In 2019, Green Monday, a social enterprise in Hong Kong came up with Omnipork, a plant-based ground meat product designed for the Asian market, it's not only certified HALAL, vegan, but also used as a pork alternative, which could be widely used to replace traditional recipes that requires meats.
Automatic Shumai Machine HSM-900>Learn more
ANKO's HSM-900 Automatic Shumai Machine has the capacity of producing siomai (shumai) at 9,000 pcs/hr., it could be used to increase frozen siomai (shumai), or mass produce fresh siomai (shumai) for steaming. Customized settings could be provided from dough-making, filling, forming, decorating, and aligning, it's designed to produce unique and delicious siomai (shumai) with consistency and efficiency. The machine could also be used to make fresh shrimp, fish paste siomai (shumai) and, or other products.