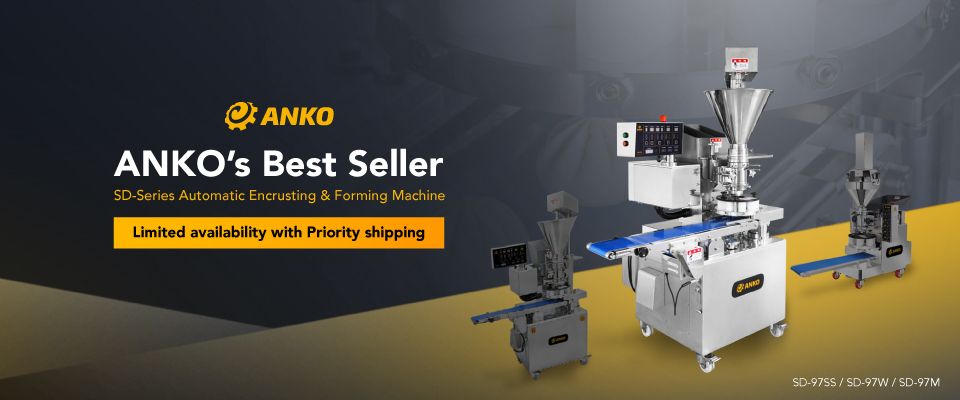 ANKO's SD-Series - Limited Availability with Priority Shipping
10 Dec, 2021
Are you having difficulties in purchasing food production equipment? The COVID-19 pandemic has affected the global supply chain of many machines. Numerous suppliers are experiencing shortages in stainless steel material and other essential production parts resulting in substantial delivery delays.
ANKO's Best Selling Automatic Encrusting & Forming Machines are in stock and exactly what you need for your food production line
ANKO has three different models SD-97SS/SD-97W/SD-97M which are suitable for commercial production facilities offered at different scales: From individual restaurants, central kitchens, online retailers, supermarkets, cloud kitchens to frozen food production plants. These automatic encrusting and forming machines are highly efficient and versatile capable of making a wide variety of food products.
ANKO's SD-Series Automatic Encrusting and Forming Machines are compact in size, highly efficient, and are designed to produce an array of food products as small as 10g and up to 70g in weight with a maximum productivity of 4000pcs/hr. These machines are often used to produce a wide range of food products such as Chinese dim sum, mochi, cookies, biscotti, arancini, tortilla, falafel, and meat balls.
The SD-Series machines are Versatile and Efficient
The machine is simple to operate, clean, and easy to maintain. Different molds can be acquired to produce food products into many different shapes and forms. Additionally, ANKO also offers professional production consulting, training, recipe adjustments, and a full array of after sales services.
Unique Features of SD-97 Series
Compact and Powerful

54 square feet, and produces more than 60 different types of food products.

Easy to Maintain

Simple to disassemble and clean.

Versatile

Many molds can be applied to create different pleats and forms.

Sticky-Proof

Capable of working with highly viscos, fibrous or powder type fillings.

Gluten-Free

Can process regular flour dough, rice-based, and other gluten-free dough.

Intuitive Monitor System

Automatic product counts and adjustable parameter settings.
We would like to hear from you!Contact ANKO Now
Let us know your needs via "Inquiry Form" below. ANKO's professional consultants will assess your product and current plan, and then have a further discussion with you. According to your situation, we will recommend a solution that is suitable for you. If you have any questions about machines and production, please feel free to contact us for further discussion.